BOSCO FERNANDEZ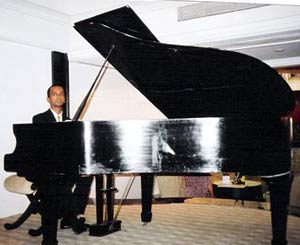 Bosco is an accomplished pianist/keyboard player.
He has peformed on several fice star hotel
resident band contracts including a stint
with one of India's best rock bands '13AD' in Muscat.
He currently performs with one of Mumbai's hottest pop bands 'Sixth Sense'
and also produces music out of his home studio.
Hear Bosco play
Demo mp3
Contact Bosco
boscofernz@hotmail.com
Cellphone:
9820163454
DOWNLOAD THE JAZZ GOA APP FOR FREE