CARLOS GONSALVES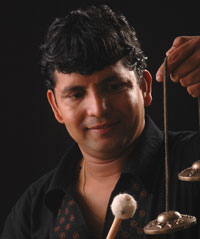 Carlos took up to the heartbeat of music - the drums, at the age of thirteen
playing the all important role of snare drum roll in his school band.
He then graduated as drummer with 'Deep Red', a professional pop band in Goa.
This band gave him the experience of performing various events
at all kinds of venues including most of the five-star resorts in Goa.
Carlos's passion for rhythm attracted him to the exciting sounds of Latin American music
that made him switch over to percussion.
He then joined Goa's sensational latino band 'Obligato'
where he played an array of acoustic percussion instruments.
His intense feel for the music he played soon landed him gigs
with a whole lot of local as well as visiting acts.
Checkout the mp3 tracks featuring Goa's new percussion star.
Hear Carlos on percussion
Samba Breem mp3
La Paranda mp3
Mambo mp3
Tres Deseos mp3
View Videoclip-1
View Videoclip-2
U-Tube Videoclip
Photo Gallery
Download 300dpi photograph
Contact Carlos
carlosdrums@hotmail.com
Cellphone:
9822382824
Visit Carlos' official website
DOWNLOAD THE JAZZ GOA APP FOR FREE