CHICO FONSECA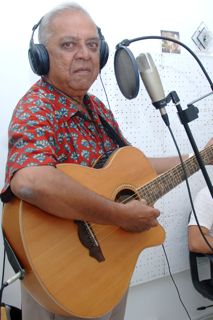 Chico is one of Goa's true music icons.
Listening to him fills you with nostalgic memories of music in Goa
when it used to be well, music in Goa!
His emotional renditions of Portuguese and Konkani songs touch the listeners heart,
endearing him at once to his audience.
Chico is often seen at resorts around Goa
strumming a guitar and singing his heart out.

Hear Chico sing/play
Goa mp3
Datampo mp3
Contact Chico
jazzgoa@yahoo.com
Cellphone:
+968 9823525063
Join Jazz Goa