CYRIL COUTINHO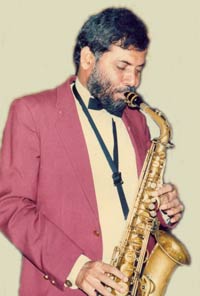 Cyril has spent well over four decades as band leader
and sideman for various live music ensembles.
His band 'Seventh Galaxy' was the most popular
dance band in Mumbai in the eighties.
He has also performed on resident band contracts
at some of the best five star hotels in India.
Cyril plays alto sax and concert flute
and is comfortable with just about any style of jazz
from straightahead mainstream to contemprory sounds
of funk, fusion and hip-hop.
Hear Cyril play
Demo mp3
Contact Cyril
saxflute@rediffmail.com
Cellphone:
9821704433
DOWNLOAD THE JAZZ GOA APP FOR FREE