DHIRAJ KAPADIA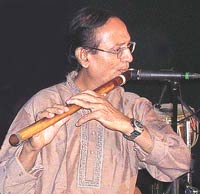 Dhiraj is the oldest deciple of India's legenday flautist pandit Hariprasad Chaurasia.
Even though he trained under a strictly classical system,
he is open to performing other genres of music aswell.
He is probably one of the most recorded soloist in the Indian film's music industry.
Besides innumerable classical concerts he also performs with Indian film orchestras
and an indo-jazz fusion ensemble called 'The Brown Indian Band'.
Hear Dhiraj play
The Brown Indian Band CD
Contact Dhiraj
rupakapadia_2006@yahoo.com
Residence:
28986586
Cellphone:
9820649541
Cellphone:
9323899054
DOWNLOAD THE JAZZ GOA APP FOR FREE