JIMMY DIVECHA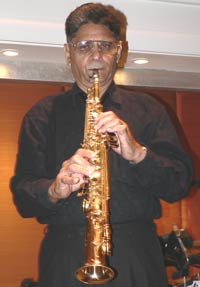 Jimmy is one of India's jazz veterans
who has spent well over fourty years
on hotel resident contracts.
His first professional assignment was
a ten year stint with the Indian Nayy band.
Besides alto, tenor and soprano saxophones,
he also plays concert flute and chromatic harp.
He currently performs on a resident contract
at the Taj Landsend hotel in Mumbai.
Hear Jimmy play
Demo mp3
Contact Jimmy
jazzgoa@yahoo.com
Cellphone:
9892036756
DOWNLOAD THE JAZZ GOA APP FOR FREE