MEGAN PERRY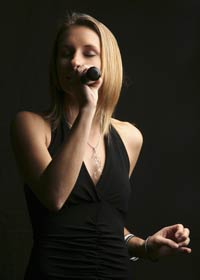 Megan is a singer songwriter whose debut single "Play me"
was played on Gold Coast Radio 102.9 Hot Tomato.
Megan was recently invited to sing at the Crowning of Miss World Australia
held at the Sofitel Wentworth in Sydney,
performing an original song called
"More than just a Dream"
written especially for the event.
With a continually growing song base of material
that has real commercial potential,
one of which (Flawless) has been recognized
in the Greater/NBN television "Crack the Big Time" competition.
Megan is hoping to work with other singer/songwriters
within the Music Industry to learn,
improve and eventually get a deal with a label.
Monsoon Music invited Megan to work with Producer David Skeet
and record four of her latest original tracks in Sydney early last year.
Megan performed in a duo called ERIZE (arise).
Erize played together for over three years.
They covered a large variety of genre's including Pop,
Pop/Rock, R & B, Jazz, Blues and original songs.

Megan is currently based in Mumbai, India
and performs on a weekend residency
at the Taj Lands End hotel.

Hear Megan sing
Demo mp3
Contact Megan
meaghan_perry@hotmail.com
Cellphone:
9819477033
DOWNLOAD THE JAZZ GOA APP FOR FREE