MUKESH GHATWAL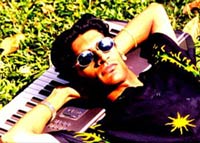 Mukesh is one of Goa's most promising keyboard talent.
At home with state of the art equipment,
he also keeps himself in pace with future developments
with both keyboards and audio technology.
He performs with Remo Fernandes
and also produces some great music out of his home studio in Goa.
Hear Mukesh play
Demo mp3
Contact Mukesh
mukeshloves@yahoo.co.in
Cellphone:
9890237714
Join Jazz Goa