SIMONE JEHANGIR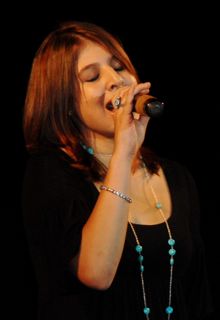 Simone Jehangir is a school student in Pune.
She first sang in public at the age of eight.
Since then she has been through voice training
and has evolved into a good singer over the last four years.
She often guests with professional bands in Pune and Mumbai.
Her preference is for jazz, even though blues and soul
are included in her continously growing repertoire.
Simone recently made her first international jazz festival debut
at the Jazz Utsav 2009 that took place on the 4th of January in Pune.
Hear Simone sing
Wonderwall mp3
Route 66 mp3
Contact Simone
simonejehangir@gmail.com
Join Jazz Goa