YOGESH HIRVE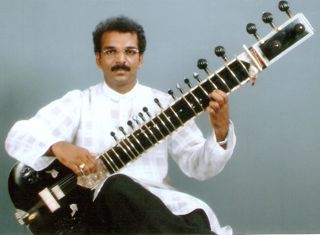 Yogesh was introduced to Indian classical music at the age of ten by his dramatist father Govind Hirve.
He began with harmonium and completed a course called "MADHYAMAPURNA" conducted by GANDHARVA MAHAVIDYALAYA, MIRAJ.
He first took sitar lessons with SHRI CHHOTE REHMAT KHAN at the kala Academy in Panjim.
He completed the course 'SANGEET KUSHAL' (SITAR).
Inspired by the Gayaki style of the great sitar exponent of ITAWA GHARANA, USTAD SHAHID PARVEZ,
He studied under SHRI RAVINDRA CHARI, and later with USTADJI SHAHID PARVEZ KHAN.
He has been performing Indian classical as well as indo-jazz fusion conerts.
Hear Yogesh play
Demo mp3
Contact Yogesh
yogihi2007@rediffmail.com
Cellphone:
9422448866
Visit Yograj's official website