YOGRAJ NAIK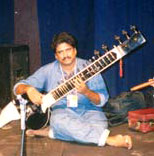 Yograj represents the young generation of accomplished Indian calassical musicians in Goa.
He belongs to a family seeped into a rich heritage of performing arts.
He trained initially under guru Kareem Khan in the 'Itawa Gharana',
a style that lays strong emphasis on rhythm along with melody.
He then studied in the guru-shiksha parampara under Ustaad Shaahid Parvez since 1994
and continues to be under his guru's guidance.
Yograj has been performing professionally from the age of fifteen
at prestigious national level classical music festivals
and also ventured very successfully into the indo-jazz fusion genre
that's gaining popularity worldwide.
He currently leads an eight piece indo-jazz fusion ensemble called Shanti
and hopes to spread world peace and unity through this band's music.
Hear Yograj play
Demo mp3
Contact Yograj
yograjnaik@yahoo.co.in
Cellphone:
9422446963
Visit Yograj's official website
Join Jazz Goa