SHUBHANGI JOSHI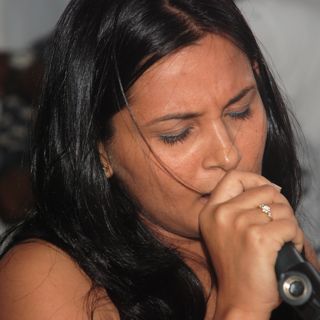 A trained student of Indian Classical Music,
Shubhangi has studied with Mrs. Shobha Abhyankar
for over 10 years in Pune.
She has performed from a very young age,
and has given numerous stage performances in both classical
and light music all over India and abroad.
A versatile singer, she has recorded albums of the World Music / Relaxation / Meditation genre.
Of recent note, she has recorded an album – "Saqi Lounge" accompanying the noted Ghazal singer, Ghulam Ali.
She has also recently launched her first solo album – 'Krishnagaan'
which also features numbers by the illustrious Suresh Wadkar.
Her strong classical training has prepared Shubhangi to render performances
in almost all genres of Indian Music
be it light Hindi or Marathi Film Music, sugam sangeet, ghazals,
bhajans or even fusion music with western instruments.
She has delighted audiences with her renditions of Ghazals by greats like
Farida Khanum, Chitra Singh, Aasha Bhosle and others.
Hear Shubhangi sing indo-jazz fusion
Mumbai Jumbo mp3
Funky Fiddle mp3
Contact Shubhagi
shubhangi.joshi@gmail.com
Cellphone:
9766543480
DOWNLOAD THE JAZZ GOA APP FOR FREE